"Work is a thing you do, not a place you go…"
As a quote this sounds clever, right? It evokes a now familiar image of working anywhere but an office. Our thinking is very different to this trend. Work is still a place you do things in. A place where you can live, work and play. But, the workplace has changed. Apart from the office being repackaged as "workplace", there have been both economic and cultural shifts in the world that mean we have to think differently about how and where we work. One of the key differences in today's office design is that workers now have more choice. Salary will always be important to them but they are also acutely aware of an organisation's brand, ethos, culture, and the place they carry out business. They know that they will be working more hours for more years and therefore the environment in which they do this is more important to them as a backdrop to everyday life. But what does this mean for the architecture of the office? Think about this;
THE OFFICE HAS CHANGED
IT'S NOT JUST DESKS AND MEETING ROOMS ANYMORE. THE WORKPLACE NOW NEEDS TO BE MANY THINGS.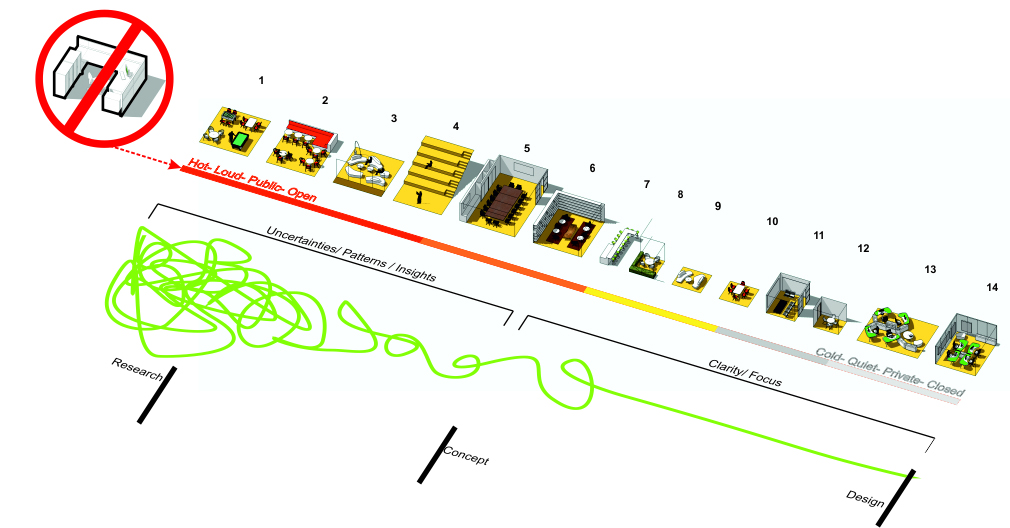 1. Why do we even need an office?... Why not just work from Starbucks?
Innovative problem-solving skills are viewed as the core of the future economy and the work people will do. Innovation is fundamentally social and the best ideas arise out of casual contacts among different groups within the same company. Physical proximity, people being co-located, drives both productivity and creativity. This is why, aside from logistics, companies have offices to begin with.
2. Where do you put your people?
The first thing an organisation should do before even beginning to create a design brief or thinking about building, is to really understand how people are already interacting in your company. This analysis goes far beyond the Company Chart. We always carry out a pre-design process called an "Organisation X-ray". From this we uncover the key relationships that define workforce dynamics, usually these are the "work networks", the "social networks", and the "career advice networks". We also can identify the people who are acting as hubs, or those acting as distributors of knowledge. This allows us to create zones where such people will function best and build architecture around them to help information flow.
3. Think about Choice and Diversity
People also need to have the choice to get away and be introverted at times and this kind of choice and diversity of spaces has proven to aid productivity and creativity. By encouraging the movement of people within the office throughout the day, and providing quiet and loud atmospheres. the worker encounters different spaces, conditions, people, and potentially, different states of mind.
4. Think about the stairs
Moving up and down through most office buildings is done predominantly in elevators. The stairs are constrained and used only for fire escape purposes. This means people working on different floors within the same building may never meet each other, overhear conversations, or collaborate. For this reason in new builds, if we can we push lifts outward and take the stairs, make them big, and centralise them. This means people actually use them and can bump into each other every now and again.
5. Create Functional Inefficiency.
Another simple way to provide diversity and drive communication in the workplace is to create deliberate "functional inefficiencies" in the floor plan. Maybe the food facilities, libraries, or meeting spaces are spread across multiple locations in the building which forces people to get up and move around during the day.
6. Think about "Good bones" and Adaptability.
All our urban projects are capable of accommodating at least two, and often three basic programmes of working, living and playing. The ability to flex, allowing for change and anticipating long life, is very important for any type of client. Hence we pursue BREEAM Outstanding and LEED Platinum ratings for our designs. Most of a typical office building's running cost is climate control, so we optimise our designs to reduce artificial heating, cooling and lighting. The structure, the bones of the building, is key to this. We create, or seek out, a Structural Frame that retains and releases heat evenly, has Tall Ceilings, Flexible Floorplates, and Simple Facades. This ensures the use of the building will be adaptable and account for how often the workplace model changes.
7. Challenge market expectation and offerings.
So what you might say is "well this is all well and good for a corporate headquarters…" but in fact these principles can, and have been, applied to speculative offices, banks, and even start-up companies. A short term vision of looking at what has rented in the last year will not provide real value for building owner or building occupant.
Bringing all this together and creating an architecture to frame and support these principles is the tricky part. We suggest you download our Ultimate Guide to Workplace Design HERE (Don't worry, it's concise, hard-hitting, and fun). You can certainly apply these yourself. But, if you don't relish the task, or, if you're in a hurry, that's where we come in. Just call us for a consultation and we'll show you how to do it best.